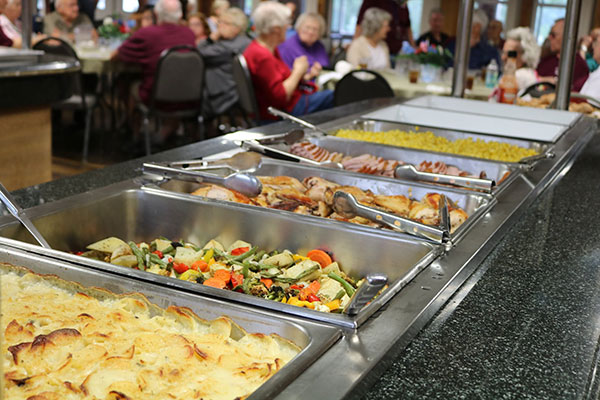 Reservations are required for all meals, at least one meal ahead. If you do not have reservations, you may be asked to wait for those with reservations to be served first. Saturday Buffet reservations must be made before 10:00am on Saturday!
Beverages are included with all meals. Lunches and dinners also include salad bar & dessert.
If you have special dietary needs, please let us know when you make reservations.
Continental Breakfast (S,M,T,Th,F,S) -- 8:00am
Adult - $6.00
Child 6-12 - $4.00
Child 2-5 - $2.00
Wednesday Breakfast -- 8:00am
Adult - $8.00
Child 6-12 - $4.50
Child 2-5 - $3.50
Lunch -- 12:00pm
Adult - $9.00
Child 6-12 - $6.00
Child 2-5 - $3.50
Supper -- 5:00pm
Adult - $13.00
Child 6-12 - $7.00
Child 2-5 - $3.50
Saturday Dinner -- 4:45pm
Adult - $14.00
Child 6-12 - $7.50
Child 2-5 - $3.50
Sunday Dinner -- 12:00pm
Adult - $13.00
Child 6-12 - $7.00
Child 2-5 - $3.50
Sunday Soup & Sandwhich -- 5:00pm
Adult - $8.00
Child 6-12 - $4.00
Child 2-5 - $1.50
Salad Bar Only
Adult - $8.00
Child 6-12 - $4.00
Child 2-5 - $1.50