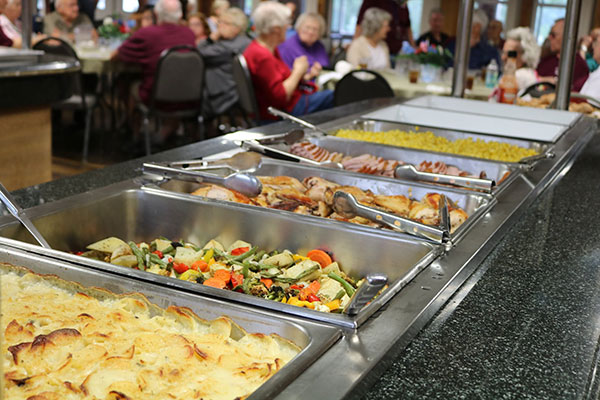 Due to limited seating, meal reservations are required for all meals. Reservations must be made and pre-paid by noon 1 day in advance. No walk-ins. No money will be taken at the Dining Hall.
Guests will need to check in with the hostess.
Meals will be served restaurant-style.
Salads will be pre-plated with choice of dressings at table.
Beverages are included with all meals. Lunches and dinners also include dessert.
Special dietary needs can be accommodated only if noted when making reservation.
Menus will be repeated every 2 weeks (Sat L – Sat B). Look for specials during our 100th anniversary celebrations this summer!
Menus will be posted on this website and around the camp.
Continental Breakfast (S,M,T,Th,F,S) -- 8:00am
Adult - $7.00
Child 6-12 - $5.00
Child 2-5 - $2.00
Wednesday Breakfast -- 8:00am
Adult - $9.00
Child 6-12 - $6.00
Child 2-5 - $3.50
Lunch -- 12:00pm
Adult - $10.00
Child 6-12 - $7.00
Child 2-5 - $3.50
Supper -- 5:00pm
Adult - $14.00
Child 6-12 - $8.00
Child 2-5 - $3.50
Saturday Dinner -- 4:45pm
Adult - $16.00
Child 6-12 - $8.00
Child 2-5 - $3.50
Sunday Dinner -- 12:00pm
Adult - $14.00
Child 6-12 - $8.00
Child 2-5 - $3.50
Sunday Soup & Sandwhich -- 5:00pm
Adult - $9.00
Child 6-12 - $7.00
Child 2-5 - $3.50