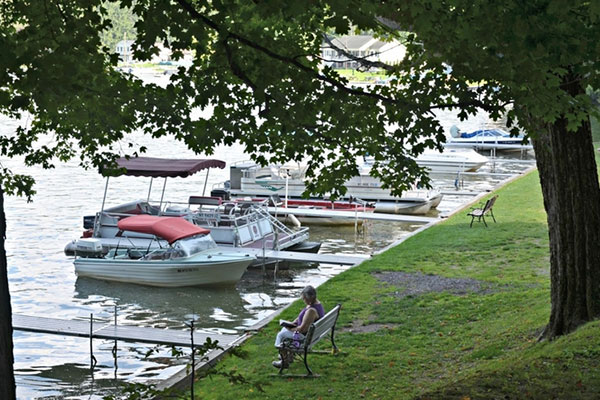 During our summer conference season, a typical week's stay begins with your arrival any time after 3pm Saturday afternoon and ends the following Saturday at 9am. On Saturdays, we open for dinner at 4:45pm. All meals are served buffet style. Each Saturday dinner in July and August is followed by a concert at 6:30pm.
Odosagih is open to the public (no need to be a camper). Come join us for any service, meal or recreation. Enjoy the beautiful surroundings of the conference property and Lime Lake. Meal reservations are necessary at least one meal ahead, please.
Nursery and K-6 have sessions Sun - Fri during both morning and evening services
Teens meet with Teen Leader(s) during evening services Mon, Wed, Fri and join the adults for morning services and remaining evening services
Camping - Summer Rates
RV Site (full hook-ups) | $50/day | $275/wk
Campsite (water & elec) | $40/day | $200/wk
Tent Site | $20/day | $100/wk
Boat Dock Rental | $15/day | $70/wk
Kayak Rack Storage | $5/day | $48/season
Seasonal Camping
Seasonal Camping is available through an interview with the Board of Directors, agreement with our doctrinal statement, and acceptance of campground regulations.
Contract period May 1, 2020 - April 30, 2021. Sites fully operational approximately May 15 - Oct 15. Rates from $835 - $1110. Rates for specific sites available on request. Pro-rated when necessary.
If you have previously attended, you should be receiving info soon. If not, call the Office at 716-353-8555 for more information, pricing & a registration form.
Office Seasonal Hours
During Season
Mon-Fri | 9:00 am - 5:00 pm
Sat | 9:00 am - 7:00 pm
Sun | Closed
Off Season
Mon-Fri | 9:00 am - 5:00 pm
Sat & Sun | Closed
The Tabernacle and Dining Hall are handicapped accessible. Some rooms, cottages and public restrooms are also handicapped accessible. Please contact us for details.
Access to wireless internet service available to guests for $15 per week (individual passwords issued upon payment).
Activities
You can enjoy swimming in our pool, boating (canoe, rowboat, kayak, paddleboat, pontoon boat), tubing, waterskiing, fishing, basketball, shuffleboard, miniature golf, horseshoes, softball, and volleyball, as well as indoor games and puzzles.
Rules for acceptance in the program are the same for everyone, without regard to race, color, or national origin.
We are near: Letchworth State Park, Niagara Falls, Arcade & Attica Steam Railroad, Hidden Valley Animal Adventure, Gooseneck Hill Waterfowl Farm, Darien Lake, several gift shops and more.