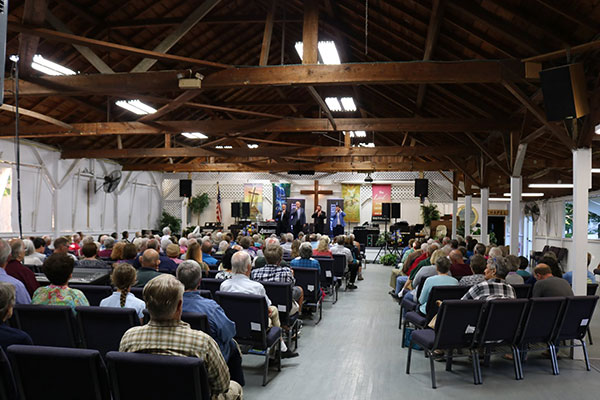 Let us tell you about Odosagih Bible Conference. We are a non-denominational ministry located on the southwest shore of beautiful Lime Lake in Machias, New York. We are 45 miles from Buffalo, 45 miles from Bradford, PA ., 60 miles from Jamestown, NY and 80 miles from Rochester, NY. The 66-acre camp property is nestled among trees and the grounds are dotted with cottages, campsites, a motel, guesthouse, dining hall and recreational areas. The property includes, Bethany, the Director's residence and a residence for the Maintenance Director.
Our motel sits high above the lake with a fantastic view. From this point our speedboat and pontoon boat docks for rides as well as paddleboats, rowboats, canoes, and kayaks. Seasonal docks are also available to rent. The old-fashioned Tabernacle, with it's raised side panels, sits by the entrance of the grounds where God's praises can be heard on a summer night's breeze. Our air-conditioned dining hall, which can accommodate 140 guests, has an open buffet with great home cooking. One can enjoy a meal and see the lake and folks enjoying the pool and miniature golf. Tubing and water skiing are available on the lake. Shuffleboard, volleyball and fishing can also be enjoyed. You can come enjoy the day, stay a few nights or for a week. No need to be a camper to enjoy Odosagih's grounds or programs.
The RV and camping areas bustle from mid-May through October with families enjoying all that Odosagih has to offer. Great Bible teaching and music are enjoyed daily in the Tabernacle. Surely Odosagih is a special place!
Our programming includes a program each Memorial Day weekend. A Mens' Retreat is held in April each year and a Ladies' Retreat is held in the Spring and Fall. A Christmas and Valentine's Brunch are highlights of the year. From July -Labor Day weekend is our summer conference season. Each Saturday a delicious buffet is held at 4:45 PM followed by a special concert at 6:30 PM. Sunday through Friday at 10:30 AM and 7 PM our speakers and musicians will share the Gospel in word and music. There is great singing and fellowship of all gathered. A nursery program, grades K-6 program and a program for teens is provided during the meeting.
There is a Fall Festival event on Columbus Day/Canadian Thanksgiving weekend each year. The fall colors around the property are breathtaking! Retreats are scheduled by various groups on the conference property throughout the year.
We are excited as we have been working on a new 12,000 sq. ft. facility called the Whitney Activity Center. Ground-breaking for this new facility was in April 2017. This multi-functional building will include a snack shop area, fellowship area, a small stage meeting area, several classrooms, a nursery and teen area and a multi-use gymnasium for sports, special programs and events. This building will greatly enhance the conference ministry all year round.